MaNuEL – Malnutrition in the Elderly Knowledge Hub (english)

Malnutrition in the Elderly Knowledge Hub
The Joint Action "Malnutrition in the Elderly Knowledge Hub" (MaNuEL) is part of the Strategic Research Agenda of the Joint Programming Initiative "A Healthy Diet for a Healthy Life"(JPI-HDHL). MaNuEL is a consortium of 22 research groups from 7 countries (Austria, France, Germany, Ireland, Spain, the Netherlands and New Zealand). MaNuEL started on March 1, 2016 and has obtained funding for two years.
General project objectives are to
gain knowledge

 regarding the definition, prevalence, effective screening and aetiology of malnutrition in older persons in different health care settings across Europe;
translate scientific knowledge into 

effective evidence-based strategies

 and derive recommendations regarding screening and identification of persons who will benefit from nutritional interventions;
develop a productive and sustainable 

competence network of researchers

 with complementary expertise in the field of malnutrition in older persons;
promote 

harmonisation

 of screening and assessment of malnutrition in older persons in current practice as well as future research.
MaNuEL is built on 5 interconnected malnutrition work packages (WP 1-5) and one management WP (WP6).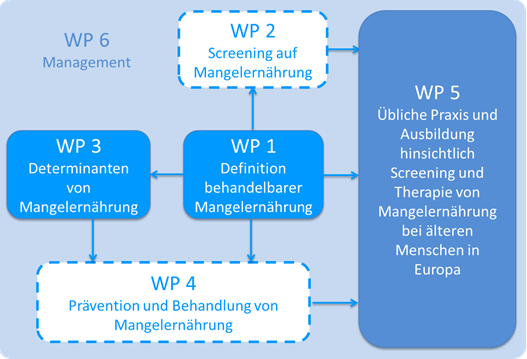 Funding:
MaNuEL is funded by national funding organisations from Austria, Germany, Ireland and the Netherlands (approximately 1.1 million Euro) and by in kind contributions from the participating research groups (approximately 0.8 million Euro). For Germany, the project is funded by the Federal Ministry of Food and Agriculture (BMEL).
Project coordinators:
Professor Dorothee Volkert, PhD, Friedrich-Alexander-Universität Erlangen-Nürnberg
Professor Marjolein Visser, PhD, VU Medical Center Amsterdam, Niederlande
IBA research associates:
Eva Kiesswetter, PhD
Melanie Streicher, M. Sc.
Partners:
| | |
| --- | --- |
| Austria | Medical University Vienna (MUV) |
| | Medical University Graz (MUG) |
| France | Champmaillot Centre Geriatric Research Unit-Dijon (CHU) |
| | French National Institute for Agronomic Research Paris (INRA) |
| | School of Agricultural Studies Angers (ESA) |
| | Gerontopole of Toulouse (CHU) |
| Germany | German Institute for Human Nutrition Potsdam (DIfE) |
| | Friedrich-Schiller-University Jena (FSU) |
| | Ulm University (UUlm) |
| | Leipniz Institute for Prevention Research and Epidemiology Bremen (BIPS GmbH) |
| | Christian-Albrechts University Kiel (CAU) |
| | Friedrich-Alexander-Universität Erlangen-Nürnberg |
| Ireland | University College Dublin (UCD-1) |
| | University of Limerick, Department of Life Science (UCC) |
| | Alimentary Pharmabiotic Centre – Microbiome Institute Cork (UCC) |
| | Institute of Food and Health Dublin (UCD-2) |
| New Zealand | University of Auckland (UoA) |
| Spain | Instituto Ramón y Cajal de Investigación Sanitaria Madrid (IRYCIS) |
| The Netherlands | VU University Medical Center Amsterdam (VU) |
| | Wageningen University Research Centre (WUR)  |
| | HAN University of Applied Sciences (HAN) |
| | Dutch Malnutrition Steering Group (DMSG) |
| | Radboud University Medical Center Nijmegen |