English version
APPETITE – Prevention of undernutrition
Innovative plAnt Protein fibre and Physical activity solutions to address poor appEtite and prevenT undernutrITion in oldEr adults
A project within the
Joint Programming Initiative
'A Healthy Diet for a Healthy Life'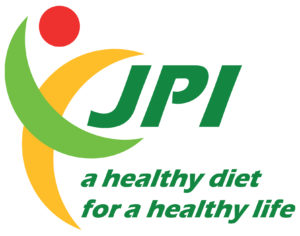 Abstract
Background
Older adults with poor appetite are at high risk of undernutrition due to the role of appetite as key driver of food intake. Although a negative impact on health is known, there is currently a lack of effective preventive strategies. Dietary protein and fibre are critical nutrients in this population, and enhancing their intake is vital to preventing undernutrition and maintaining organ function and health.
Aim
The aim of APPETITE is to prevent undernutrition in community-dwelling older adults by improving their appetite through targeted nutrition and physical activity.
Approach
Innovative, affordable, easily and widely applicable products will be developed for and together with older adults with poor appetite by combining plant proteins and dietary fibres. Utilization of the plant protein in comparison to animal protein in the human body is being investigated. The effects of selected product variants on appetite, the occurrence of undernutrition and other clinical and functional outcomes in older adults with poor appetite and an increased risk of malnutrition are then examined.
Impact
APPETITE will improve our understanding about plant protein and fibre products and their metabolic and clinical effects. It will create new knowledge how these products in a whole-diet approach together with physical activity and regular social contacts may contribute to overcome undernutrition.

Background
The world's population is ageing rapidly. Especially very old adults are at high risk of undernutrition, i.e. an undersupply of energy and nutrients. Undernutrition in old age is associated with serious adverse health outcomes as well as reduced quality of life, and represents a major burden for both the people affected and the healthcare system. Undernutrition can have multiple causes. In addition to impaired physical and psychological function, illness and medication can have an influence on nutritional status. Appetite plays a central role in this context. Poor appetite is frequently reported in community-dwelling older adults and is considered a risk factor for weight loss, malnutrition, sarcopenia and frailty. There is evidence that older people with poor appetite consume less protein and fibre than older people with very good appetite. These nutrients, which are critical in the target population, represent a potential approach to preventing malnutrition in older adults with poor appetite. The effects of interventions with protein-fibre supplements are not yet known. The role of physical activity is also still unclear. APPETITE is developing innovative food products made from plant proteins and dietary fibres and studying the effects of these products in combination with physical activity to gain knowledge that will help older adults with poor appetite to adopt a healthy diet and lifestyle and prevent undernutrition.
Objectives
The project is based on the call "Development of targeted nutrition for prevention of undernutrition for older adults (PREVNUT)" of the Joint Programming Initiative: A healthy diet for a healthy life (JPI-HDHL). The overall objective of APPETITE is to prevent undernutrition in community-dwelling older persons by enhancing appetite through targeted nutrition and physical activity.
Specific objectives
This objective will be reached by execution of 5 work packages (WP) with the following specific objectives:
Analysis of the target group


Gain detailled insight into characteristics and preferences of community-dwelling older persons with poor appetite

Product development


Development of innovative plant-protein fibre products with attractive sensory properties and balanced amino acid profiles in cooperation with older adults with a poor appetite, and elucidate effects of product properties on in-vitro digestibility

Effect of the products on biochemical parameters


Examination of the impact of innovative plant-protein fibre products, physical activity and probiotic interventions on digestibility, amino acid bioavailability and whole-body protein metabolism in older persons with poor appetite

Effect of the products on appetite, nutritional status and other parameters


Determination of the impact of innovative plant-protein fibre products as part of a personalised optimized diet, a physical activity program, and their combination on appetite, incidence of undernutrition and other nutritional, functional and clinical outcomes in older persons with a poor appetite and at high risk of undernutrition in a multi-country randomized controlled intervention trial

Dissemination of knowledge


Provision of accurate information from the APPETITE project background, objectives, approaches and results to a wide audience of stakeholders in order to rise awareness, share knowledge and improve dialogue between researchers, healthcare providers, policy-makers, industry and the older population
Project Partners
Within the framework of APPETITE, experienced, well-networked cooperation partners from eight institutions in six European countries are working together with expertise from different disciplines in the field of malnutrition prevention in older people.
Project partners
Institution
City, Country
Principal Investigator
Friedrich-Alexander University Erlangen-Nürnberg (FAU)

Institute for Biomedicine of Aging

Nürnberg, Germany

Prof. Dorothee Volkert

University College Dublin (UCD)

School of Public Health, Physiotherapy and Sports Science

Dublin, Ireland

Prof. Clare Corish

Institut National de Recherche pour l'Agriculture, l'Alimentation et l'Environnement (INRAE)

Clermont-Ferrand, France

Dr. Dominique Dardevet

Fraunhofer Institute for Process Engineering and Packaging (IVV)

Freising, Germany

Dr. Stephanie Mittermaier

Newcastle University (NU)

NIHR Newcastle Biomedical Research Centre

Newcastle, United Kingdom

Prof. Avan Sayer

University of Padua (UNIPD)

Department of Biomedical Science, Neuromuscular Physiology Laboratory

Padua, Italy

Prof. Giuseppe De Vito

Vrije Universiteit Amsterdam (VU)

Faculty of Science, Department of Health Sciences

Amsterdam, The Netherlands

Prof. Majorlein Visser

Food Companions BV

Bridge2Food (B2F)

Bilthoven, The Netherlands

Gerard Klein Essnik
Workplan
APPETITE consists of 6 work packages (WPs), which – with the exception of WP6 – are each managed jointly by two project partners in close cooperation.
Work packages
| | | |
| --- | --- | --- |
| Work packages | Description | Project partners involved |
| WP 1 | Understanding the older consumer with poor appetite | NU, VU |
| WP 2 | Development, characterization and provision of innovative, sensory attractive plant protein fibre products | IVV, FAU |
| WP 3 | Mechanistic insights: Impact of innovative plant protein fibre products, physical activity and probiotic interventions on amino acid bioavailability and protein metabolism in older persons with poor appetite | INRAE, UNIPD |
| WP 4 | Randomized controlled trial to prevent undernutrition in older adults with a poor appetite and at high risk of undernutrition | UCD, VU |
| WP 5 | Impact and dissemination | UCD, FAU |
| WP 6 | Management | FAU |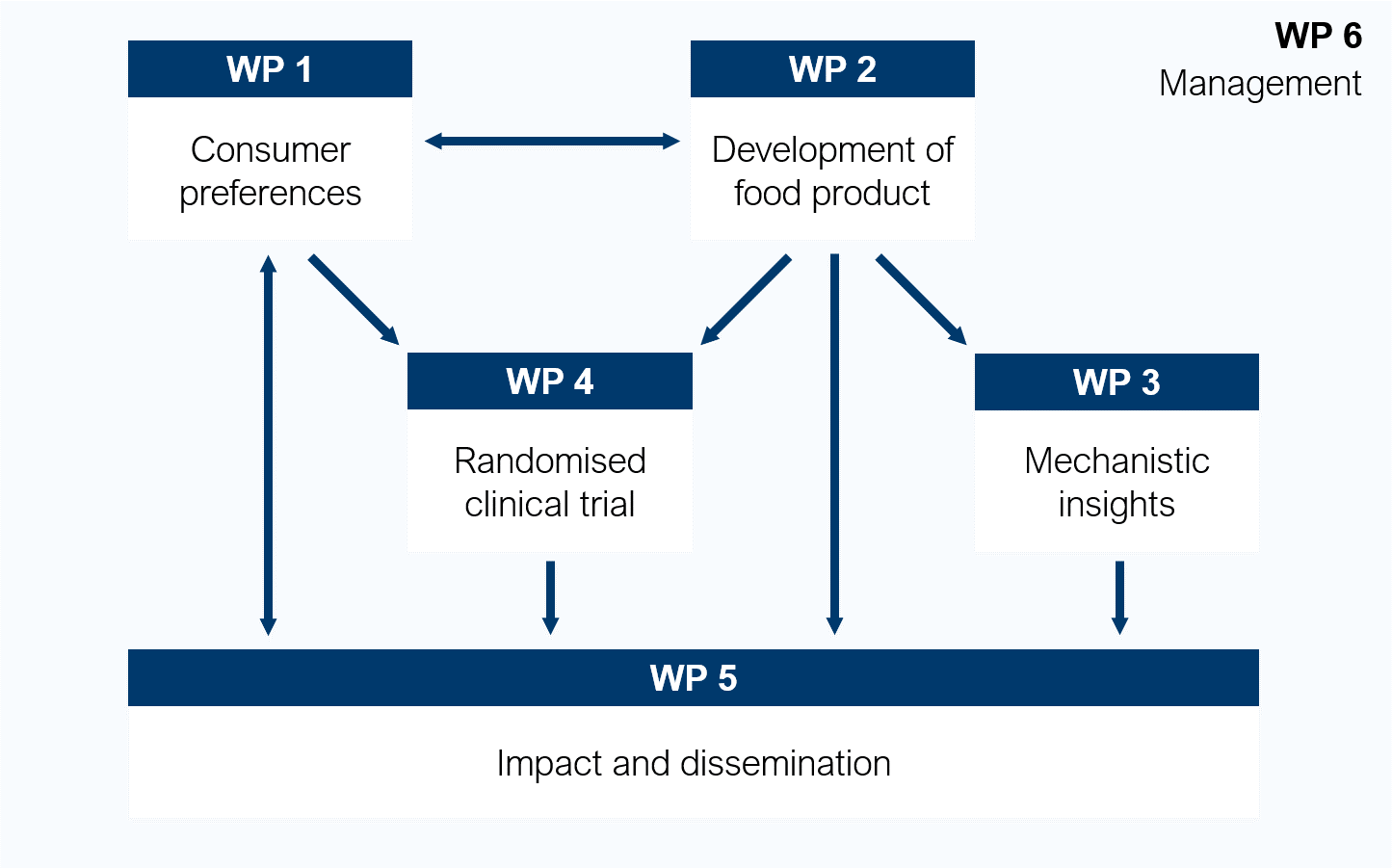 Project duration
36 months | 04/2021 – 03/2024
Project coordination
Prof. Dr. rer. nat. Dorothee Volkert
Pia Scheufele (M. Sc. Molekulare Ernährungswissenschaft)
Funding Organisations
| | |
| --- | --- |
| Country | Funding Organisation |
| France | French National Research Agency (ANR) |
| Germany | Federal Ministry of Food and Agriculture (BMEL) represented by the Federal Office for Agriculture and Food (BLE) |
| Ireland | Health Research Board (HRB) |
| Italy | Ministry for Universities and Research (MUR) |
| United Kingdom | Medical Research Council, as part of UK Research and Innovation (MRC/UKRI) |