nutritionDay in nursing homes
Update
nutritionDay in nursing homes 2018 – Only 2 instead of 5 questionnaires!
Shorter – we have reduced the number of questions and only maintained the most meaningful ones. Thus, only 2 instead of 5 questionnaires need to be answered.
Faster – the shortened questionnaires make participation much faster and will save your time.
Easier – a clearer structure of the questionnaires and less questions will make participation easier and will not require any special skills or equipment.
nutritionDay in nursing homes
To increase awareness of malnutrition and to promote adequate nutritional care for nursing home residents
The next nutritionDay will take place on 15th November 2018.
Malnutrition in older people often remains unrecognized and therefore untreated. A good nutritional status is, however, essential for well-being and quality of life.
The old age of nursing home residents, complex care efforts, and moreover limited personnel resources present major challenges for nursing homes to ensure adequate nutritional care.
The nutritionDay is an annual worldwide campaign day on which nursing homes have the opportunity to assess and to evaluate the nutritional situation in their facility. The aim is thus to increase the awareness of malnutrition and to promote good nutritional care.
On a defined day, data on the unit and residents are collected using questionnaires, which are available on the nutritionDay homepage (www.nutritionday.org) in 17 different languages. Data collection will be performed by the respective local nursing staff. In addition to general information on the unit and the residents, the nutritional situation is assessed based on food intake, body mass index and weight loss. After 6 months, the outcome data of the residents will be obtained (residence after 6 months, actual weight, and hospitalization).
Repeated participation in the nutritionDay enables the development of the nutritional situation in the nursing home to be documented from year to year. Due to uniform assessment tools, nursing homes can compare with each other nationally and internationally. In addition, nursing homes may certify their successful participation.
Figure: Overview of nutritionDay questionnaires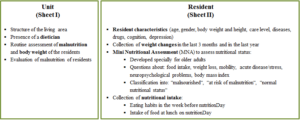 Since the first investigation in 2007, more than 800 units have participated with more than 27,000 residents from 20 countries.
The nutritionDay in nursing homes is coordinated by the Institute for Biomedicine of Aging of the Friedrich-Alexander Universität Erlangen-Nürnberg, in close cooperation with the Medical University of Vienna (MUW). The project is supported by the Austrian Society for Clinical Nutrition (AKE), the European Society for Clinical Nutrition and Metabolism (ESPEN) and the German Society for Nutritional Medicine (DGEM).
More information about the project and the application for nutritionDay can be found on www.nutritionday.org
The next nutritionDay will take place on 10 November 2016.
Project coordinator:
Professor Dorothee Volkert, PhD email Tel.: +49 (0)911-5302 96168
Research associates:
Melanie Streicher, M.Sc. Nutritional Science email Tel.: +49 (0)911-5302 96160
Partners:
nutritionDay principal investigator Professor Michael Hiesmayr, PhD; Karin Schindler, PhD and Sigrid Kosak, M.A., Medical University of Vienna (MUW)
European Society for Clinical Nutrition and Metabolism (ESPEN)
Austrian Society for Clinical Nutrition (AKE)
German Society for Nutritional Medicine (DGEM)
Links:
www.nutritionday.org
nh@nutritionday.org
German Version